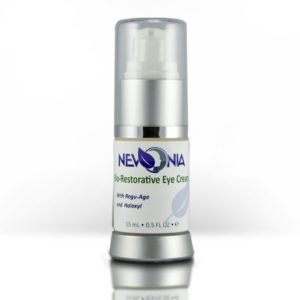 Nevonia is my favorite under-eye cream! This powerful eye lifting cream reduces the signs of aging & stress by diminishing the appearance of wrinkles, alleviating puffiness, and minimizing dark circles. It has several powerful ingredients, including:
SNAP-8 is an elongation of the famous hexapeptide Argireline®. SNAP-8 reduces the depth of wrinkles on the face caused by the contraction of muscles of facial expression, especially in the forehead and around the eyes.
Vitamin K is used to treat bruising, spider veins, under-eye dark circles, minor burns, skin irritations, stretch marks, post-laser discoloration, scars and rosacea
Argireline is a peptide that inhibits SNARE complex formation and catecholamine release, resulting in the reduction of the degree of existing facial wrinkles and demonstrated effectiveness against their development with regular use.
Caffeine extract is effective in reducing dark circles under the eye area.
HaloxylTM targets the underlying cause of dark circles to prevent excessive formation of these pigmented by-products and diminish their unsightly appearance around the eyes
REGU®-AGE PF For those who are troubled by dark circles and puffiness around the eyes .This anti-ageing complex has been developed specifically to address these conditions by improving microcirculation, protecting the integrity of the collagen and elastin bundle and reducing the effects that free radicals have upon the skin.
NIACINAMIDE (VITAMIN B3) Niacinamide can help to improve the skin tone. Niacinamide can help to inhibit skin pigmentation. Niacinamide B3 can help to improve skin redness, Bearberry Extract- Antioxidant that lightens pigmentation
You can buy Nevonia on Amazon.